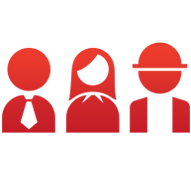 DIVERSITY + INCLUSION
Leverage wisdom + ideas from new cognitive perspectives
Even after a multinational food manufacturer had implemented diversity initiatives, its decision-making continued to be shaped by people with a similar personality style. Despite achieving diversity around gender, race, ethnicity, age, and sexual orientation, many team members didn't feel connected. The company turned to NeuroColor and discovered that an understanding of cognitive diversity can lead to higher engagement and fresh ideas, as well as better problem-solving. Level up your own D&I program with brain-based strategies designed for successful business outcomes.